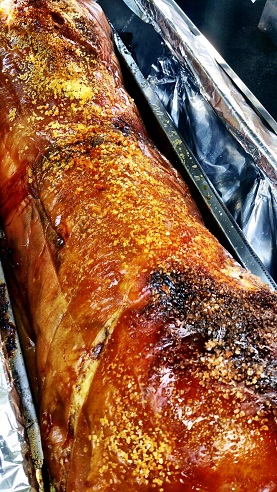 When it comes to mobile event catering, you won't find a more skilled, experienced or enthusiastic team than Hog Roast Fraserburgh. The inspiring coastline and availability of great home grown produce makes us the perfect option for any event in the area. We have the ability to cater with ease in any indoor venue or stunning outdoor location in Fraserburgh and no matter where we are or how large your guest list is, we always freshly prepare every item on your menu on-site using only the best locally-sourced ingredients.
Our much loved slow-roasted pork is so popular because we source our meat from only the best local producers who follow the most stringent ethical practices. The quality of all of our meat is second to none and its natural flavour is further enhanced after being skillfully prepared by one of our specialist hog roast chefs using the most advanced roasting equipment on the market.
It is the quality of our ingredients, the experience of our chefs and the efficiency of our equipment that make us the leading supplier of hog roasts in Fraserburgh and it is the diversity of our menus that make us a great catering option for any type of event in the area.
Perfect Catering Solution For Any Event
Over the many years Hog Roast Fraserburgh team have been in operation, we have perfected the technique of hog roasting, but we have also continued to develop and expand our menus in order to cater for all tastes and dietary requirements.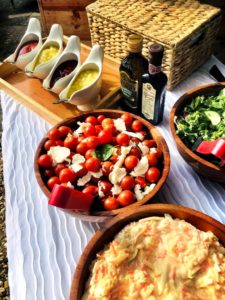 In addition to providing superior pork, we can also offer you an equally delicious range of other slow-roasted meats, including tender spring lamb, whole roasted organic chicken and blushing sirloin of beef. We don't neglect our vegetarian guests either and have a tasty selection of meat-free options for all of our mains, starters, side dishes and canapés, as well as being able to meet the needs of guests with specific dietary requirements by adapting our menus accordingly.
If you are planning a large informal gathering, we can present your menu as a scrumptious buffet or if you would prefer a more formal feel for your wedding reception or a company event for example, we can provide you with a restaurant-quality 3 course meal with full table service. Hog Roast Fraserburgh can provide the best meat and most varied menus for any event in the area