There's a lot of people who choose to use our services so they can host an event as stress free as possible, allowing them to sit back and enjoy their event, then there's others who flourish in the thrill of being able to cater themselves. Well this is where the Hog Roast Banff Machine Hire service is here to lend a hand. We offer an impeccable hire service allowing you to be the star of the show too and cook the perfect roast for all of your guests.
Our machines are all designed and built right here in the UK. Designed specifically by chefs directly for chefs. Depending on your needs we offer a range of machines for you to choose from, varying from small scale parties to large festivals and corporate events. The capabilities of our machines are endless. It doesn't matter if you want to produce a small roast in your garden for close family and friends or if you are wanting to cook up a delicious roast for all of your staff as a treat, we are able to provide you with everything you need!
Occasion Catering Made Simple
Here at Hog Roast Banff we aim to make the idea of having a hog roast for your celebration accessible to all. We have packages to suit all budgets and if you are unsure about where to get your meat from we can even supply a pig along with the machine and gas. It really couldn't be easier! Hog roasting was once an old tradition that many thought would be dying out, but thanks to our industry leading brand of machines we have turned the traditional hog or spit roast into a modern day party piece!
The best thing about our machines is they are super easy to use, so whether you are a novice or an expert chef you can still produce the same tasty results. On delivery our chef will take the time to give you a quick tutorial of the hog roast machine and leave you with a few hints and tips to get extra flavour and the perfect crispy crackling that everyone loves. We leave you confident that you can impress your guests with a true Spitting Pig inspired roast!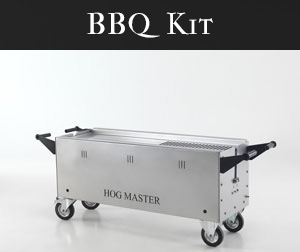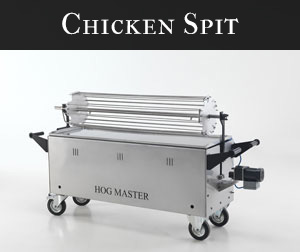 There is no other cooking method that it as easy as using our Hog Roast Banff machines and nothing can be compared in terms of taste and enjoyment. It's much easier than you may think, all you need to do is score, season and allow our machines to do all the hard work for you. A very simple process that can be made into a fantastic meal, worthy of that of a professional chef.
The aroma that comes from a hog roast is an unforgettable smell and is sure to get the hungry bellies ready for a big meal. An important thing to remember about our hog roast machines is that they are very easy to manoeuvre, meaning you can host your very own hog roast absolutely anywhere. They are able to fit through any standard doorway or garden gate and with 4 durable wheels they can be conveniently pushed across most terrains.
Specialist Accessories For Hog Roast Hire
If you really are wanting to put on an impressive feast for your guests then our accessories can add extra diversity, allowing you to prepare more than just a pig. Our BBQ attachment can transform your machine into a fantastic BBQ, perfect for bacon butties or burgers! Or why not try out our chicken spit attachment, this allows you to spit roast up to 36 chickens at once. However it's not just chicken you can spit roast, why not try turkey, lamb or even more options!
You now have the option to provide your guests with so many more options than you first thought. Best of all you can still be slowly roasting your pig while using our accessories. The opportunities really are endless with our machines, we've even known customers to cook pizzas using our machines! You won't find any other hog roast machine that's as reliable, durable and as enjoyable to use as ours.
When we collect our machine, plus any of the accessories that you have chosen to hire we do kindly ask that you do give us the machine back in the same condition that we left it in. To hear more about our Hog Roast Banff machine hire service and to ensure about our packages and prices, please do get in contact with us.