Hog Roast Kingussie well and truly stepped it up a notch releasing the famous Loaded Fries as the first edition to the Street Food Menu. When Sally was planning her announcement of her new baby boy (Owen), she wanted something fun, easy and of course delicious to treat her guests too.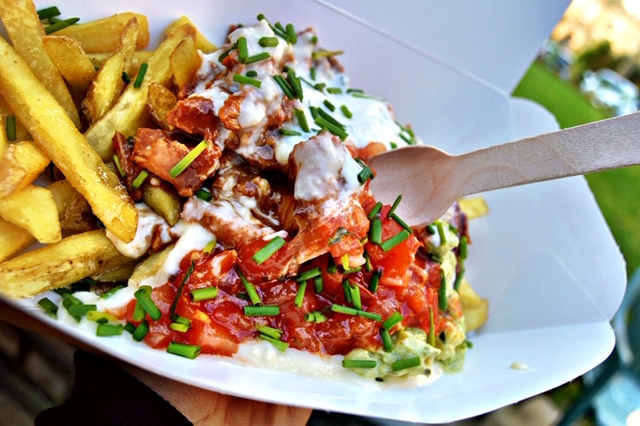 Sally and her partner Rob were joined by their friends and family to celebrate the special arrival of Owen. They had prepared their garden with games for the children and benches for the adults to gather and to spend the afternoon relaxing. While the guests gathered we were setting up at the bottom of the garden preparing our slow roasted pork ready to pile onto of generous portions of fries along with cheese, a selection of sauces, optional chives and jalapenos.
Before long the flavoursome smells were making their way through the garden to all the guests who couldn't wait to have their own box of Hog Roast Kingussie's Loaded Fries! The children in particular were very excited, and it was a popular choice for them also as many opted to have a portion of cheesy chips instead of the full Loaded Fries. A fantastic crowd pleasing menu for every guest!
The star of the show however seemed very worn out with all the attention and guests to entertain and before long was fast asleep, in perfect timing for his mum and dad to sit and enjoy their Loaded Fries with all of the guests. It was a fantastic celebration for all that were close to Sally and Rob and a fabulous opportunity to all meet Owen. Between Owen and our Loaded Fries we were both certainly taking the limelight of the day.
With the sun shining the Hog Roast Kingussie team started to pack away leaving the guests to enjoy their relaxing afternoon while the children had a lovely time playing games in the garden. Wishing Sally, Rob and Owen all the best from the team at Hog Roast Kingussie.