Most brides and grooms find themselves hoping and praying for clear skies and warm weather on their wedding day, which is why the majority choose to tie the knot in the height of summer. But did you know that there are many cultures around the world who believe that rain is actually a sign of good luck? Yes, really!
According to those who believe in this superstition, rain is a symbol of cleansing and fertility; and it 'tightens the knot' of a wedding, making it harder to break the bond between you and your beloved. So, when it poured buckets at Julia and Lucas' wedding last week, the pair took it as a sign from above that their love was built to stand the tests of time. They were, however, still very grateful that their past selves had opted to enjoy their reception within the cosy confines of one of our marquees. Otherwise, they'd have found themselves dining on soggy sandwiches – and no one wants that!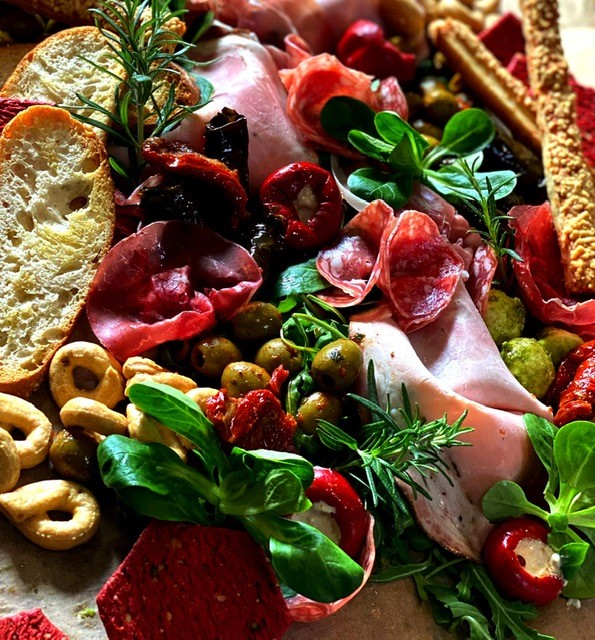 Their ceremony took place under a hexagonal, lakeside gazebo that had been entwined with pink and yellow roses to match the couple's chosen colour scheme, and the reception was held a short distance away; where Hog Roast Pennan had worked hard all morning to bring our tasty Alfresco Menu to life for the newlyweds and their 75 guests. And despite the sheets of rain that fell from the heavens above, the view was stunning, the temperature was mild, and it was no wonder why the pair had risked hosting their big day outdoors, even in the height of winter.
Fortunately for all those who attended, Hog Roast Pennan's mouth-watering hog roast rolls have a way of warming you to the core, so the guests didn't even notice the slight chill in the air when the breeze swept through. They were all far too busy enjoying the celebrations and digging into the buffet of shredded pork, stuffing, crackling and side salads to mind.
The food was well-received, and with it being a wedding, Hog Roast Pennan rounded off the booking by slicing and dressing the couple's wedding cake (after they had made the first cut, of course) in ripe berries and fresh cream, which they served to each of the seated guests.