On Saturday afternoon, Hog Roast Mintlaw provided catering for a lovely group of lads who were celebrating Ryan's upcoming wedding next weekend!
The stag event was organised on Ryan's behalf by the best man, Matt, and was overall a low key affair, as per the groom's request. The celebration centred around a chilled out whiskey tasting experience at one of the local distilleries, and there to ensure that the boys stayed well-fed during the course of the evening was our team of lively caterers.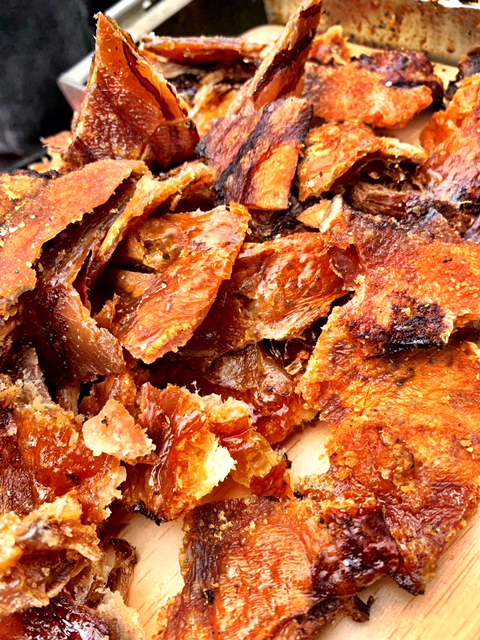 In the weeks leading up to the stag party, Matt had asked our catering manager to serve Hog Roast Mintlaw's famous Classic Hog Roast Menu with a little bit of a twist. Traditionally, this feast consists of gluten-free or wholemeal rolls stuffed full of irresistibly succulent and juicy shredded pork, topped off with a layer of crispy crackling, sage and onion stuffing, a healthy drizzle of sweet applesauce and a few salad options.
To accompany the hog roast rolls on this occasion, however, Matt had requested that we prepare a chafing dish full of sweet potato and regular fries, in addition to the bowl of gourmet coleslaw and salad options. He also wanted homemade individual cheesecakes for dessert (Ryan's favourite!), and, given the nature of the event, he asked us to include a charcuterie board of chilled deli meats, cheese nibbles, nuts and crackers to complement the alcohol. Everyone was in agreement that this laid-back style of dining suited the informal tone of Ryan's event perfectly, and after hearing about what the menu would entail, he and the rest of the lads got even more excited.
We're so happy to share that the Hog Roast Mintlaw catering team didn't disappoint! When the party date rolled around, the boys were really pleased with the quality of the food and the professional standard that our catering crew delivered on this occasion, which contributed greatly to the success of the event. Most importantly, Ryan had a wonderful time and was over the moon with everything on the menu, and has since gotten in touch to thank our team once again for all of their hard work!